DIY Course to maximize profits, client results, and happiness
Leverage for Growth® Accelerator is the exact same training program that we have used with dozens of our 1:1 clients for the last 2 years to double their profits, free up time to work on the business, and efficiently scale without burning out.  
Are you a do it yourselfer? This all-in-one business course gives you the step by step Leverage for Growth method to scale your agency today! The most affordable solution for your agency scaling needs.
Who it's for
Leverage for Growth® Accelerator is for you if you're an agency owner with an existing agency with at least 5 paying clients. If this is you, you're probably looking for ways to:
Scale while maintaining a high ROI.
Hire and manage a client fulfillment team.
Delegating the day-to-day operations.
Running your business by the numbers.
Consistently having conversations with ideal clients and closing them.
Having the confidence needed in your fulfillment systems to scale.
What Do Our Clients Say About Accelerator?
"Putting this into practice saved me 2 years of having to learn it on my own."
"As I've worked with Jesse, I've improved my business behind the scenes, booked more work, and have recently made my first agency hire. I'm on a path of growth and profitability, and have made sure all my processes are now documented to share with my team.  I've also been able to spend more time with my boys, which is the most important benefit of all!"
"I would offer you this challenge. Can you open your mind enough to allow Jesse to show you what the future can be like for your company? Where your day is not owned by your business after five o'clock. Where you can find this joy and take these challenges and run with it? You have to be the right person to work with Jesse, because you have to be willing to be scared to see a future that maybe you could never even imagine."

"Grew our business by over 400% in the first 6 months"
"Working with Jesse allowed me to make it through a challenging, but rewarding [first] 6 months including repackaging our services, firing that new employee, hiring 4 others, losing a key contractor, putting together a formal training program and growing our business by over 400%…. I highly recommend working with him!"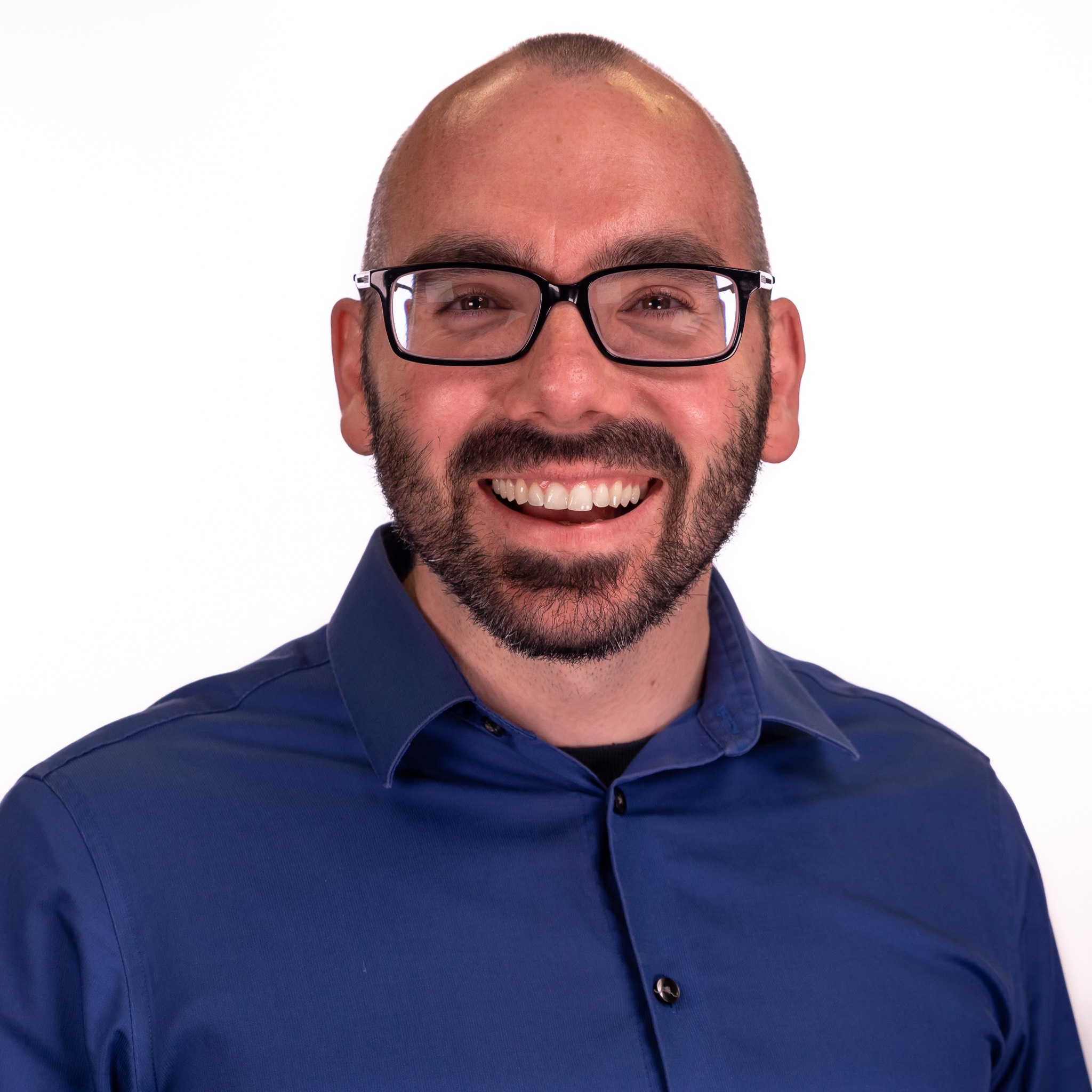 I'm the Agency Transformation Coach & Consultant. I help marketing agency owners to streamline client fulfillment, reduce complexity, free up time, and efficiently scale to $1M+ ARR.
Over the last 13 years, I have owned 3 companies, and guess what I found… The more success I achieved by working harder IN the business, the more hours I had to work. If I didn't work, work didn't get done. This vicious cycle led to the point of exhaustion and burnout.
Luckily, I found that there is a better way to manage and grow a business! During my years as a professional project manager, I used business systems to create, develop and scale four 15-25+ person project teams, impacting over 1,200 employees at a 4 billion dollar corporation.
When done right, these same formulas empower you to scale your marketing agency fast. All without compromising on quality or losing what makes you unique.
What is Included:
Leverage for Growth® Accelerator Course covers all aspects of your business to help you transform from a hustler to a CEO.
If you are trying to scale your agency, you probably have experienced these common roadblocks:
1. Stuck working 60+ hour weeks IN the business with no end in sight… We have a solution. 
2. Ineffective delegation that leads towards you having to do it yourself… We have a solution.
3. An offer that is neither scalable or profitable as it increases your personal hours with each new client… We have a solution.
4. Experiencing feast and famine revenue cycles by relying on referrals or paid ads to grow the business.. We have a solution. 
5. Inability to attract and retain top talent to allow you to focus on growth… We have a solution. 
This transformational program is broken down into 8 training modules that give you the tools, knowledge, skills and step-by-step directions necessary to make this transition by following the proven process.
There are over 14 hours of training material, 40+ worksheets, and dozens of SOPs to help you shortcut your way to an agency that can sustain and grow without your direct involvement. 
So What is the Structure:
Module 1: Mindset & Leadership
To start this program, you must realize that this is not a get rich-quick scheme and requires work to get the results that you want. We unlock the power of a limitless mind through an understanding of who you are at the core. From this place, we build the mindset and awaken the leader within you so you can position yourself in your business according to your strengths as it grows.
 
Module 2: Time Management
Now that we know more about you and where you want to take your business, we take a deep look inside your relationship to the business through your use of time. Our goal with Module 2 is to have you carve out 8-10 hours per week to work ON the business. From this place, we are able to create the time and space needed to create your agency by design rather than default.
Module 3: Client Fulfillment System
Once you have carved out the 8-10 hours per week to work ON the business, what do you with that time? Module 3 is centered around the understanding that in order for you to grow your agency, you can't be the one that does all the work. We begin the process of removing you as the bottleneck to growth through the development of effective delegation methods, systems building and tracking progress of client fulfillment work.
Module 4: MVS & Growth Planning
Since we have made you replaceable within your agency, it is time to reimagine what growth means for you and your agency. Module 4 is a reimagining of how you price, package and deliver your services through the development of a scalable, minimum viable solution for your ideal client. This allows us to start planning growth with increased profitability, scalability and capacity to handle 2-5X as many clients.
Module 5: Client Attraction Systems
By this time, you have your limitless mindset, regained control of your time, simplified your service so you can delegate, have increased your profitability with a minimum viable solution, and now it is time to grow. Module 5 is about building all three client attraction systems and fill your pipeline with your ideal clients. You will identify your ideal client, develop both manual and automated methods of starting conversations, and fill your calendar with booked appointments. 
Module 6: Client Conversion System
With a filled pipeline, the question is "how do I convert these appointments into paying clients?" Module 6 is all about optimizing your sales process through a predictable method of converting appointments into paying clients. You become a conversion ninja with ideal clients who will thank you for reaching out and converting them so you can serve them powerfully.
Module 7: Lead Generation Systems
We all know that not all lead generation systems or providers are created equal. Some agency owners want to do lead generation themselves and others want someone else to help them with it. Module 7 is all about understanding how to optimize lead generation using the client attraction systems and setting yourself (or your lead generation provider) for success.  
Module 8: People Systems
In Module 8, we wrap it all together with bringing corporate level systems into your agency so that you can attract, hire, develop and manage high performers and grow rapidly. You empower your people to take over whole parts of the company so you can focus on growth or taking time for yourself. These people systems have allowed massive growth and even the selling of agencies for our clients.  
— MAKE IT HAPPEN
WHAT WOULD LOOK DIFFERENT
A YEAR FROM NOW
if you, your team, and your organization had a long-term growth plan that worked?
Imagine dramatically increasing your ability to:
Grow the agency without working longer hours
Charge what you are worth and stop being taken advantage of
Increase both perceived and actual client value so they pay you on time and thank you for the service
Attract & retain top talent that want to work for you so you have team members not just employees
Become an industry leader while having the financial freedom as well as the freedom of time
"Jesse's program is a personal trainer for your agency business."
"I would say that Jesse's program is a personal trainer for your business, for your agency business. So if you're trying to start your own marketing agency, you need a trainer, you need a plan, you need goals. So that you can thrive by getting out of your own way and let someone help you to grow your business and scale it quickly. Stop trying to do it yourself."
"Doubled my profit margins and barely had to work on vacation."
I had my best month last month. I closed three clients and I closed them at a rate that's better for the business. Now that those systems are in place, the flow is better. The profit margins are better and we're bringing in more clients. People that come to see me, they're serious. They want to do business which helps the business go up…I was able to take a nice trip to Hawaii with my wife. It was really nice to kind of test it out. Like how little do I have to work on my vacation? And I didn't have to work much! In fact, I didn't even tell some people that I was in Hawaii. And they were amazed that all this work got done and I was on vacation, enjoying my vacation."
"Helped change the way I think about the services I offer and how I deliver on them."
"Jesse and I worked together to figure out who I want to be working with so that I can deliver on my strengths, I can deliver effectively, be appreciated by my clients, and have good client relationships. That has definitely improved since working with Jesse. He helped me change the way I think about the services that I offer and how I deliver on them. So that I can start being mindful of documenting my work, start planting the seeds in my head of how I want to expand my team, and refine the services I offer. As well as starting to charge based around value rather than actual cost to deliver. All those things together have helped me present myself more confidently and get what I deserve."
Imagine if all this did was get you ONE of the outcomes, would it be worth it?
If you could work in your business when you wanted to, would it be worth it?
What if you reduce the complexity of client fulfillment so taking on new clients was much easier, would it be worth it?
If you finally stopped spinning your wheels and had a long-term business growth strategy, would it be worth it?
If you allowed your team to take over whole parts of the company so you can scale your agency without burning out, would it be worth it?
If you could spend more time with your family without worrying about client satisfaction, would it be worth it?
So what is the investment?
Is it

$60,000

? No. Although we have sold the program for this much.
What about

$30,000

? No. 
Okay, maybe

$10,000

? Nope.
Today's limited time offer for the Accelerator Program is
only $6k

for lifetime access. 
Alright, I am in. How do I get started?
You have two options.
1. Either you can book a 30 min strategy session with Jesse to make sure that this is the right program for you.
2. Or you can simply purchase the program right now. Click the button below to gain access now.